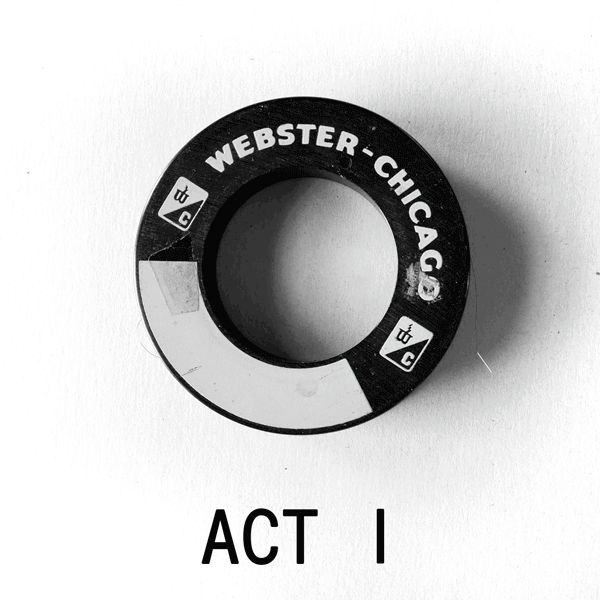 – Adam Feldman, Time Out New York
-Alexis Soloski, The New York Times
– Helen Shaw, Time Out New York
-Gabriela Geselowitz, Tablet
-Rea McNamara, Art F City
-Tess Takahashi, The Brooklyn Rail
With Say Something Bunny!, Alison S. M. Kobayashi and UnionDocs present an enthralling performance based on an amateur audio recording made over sixty years ago. The origin of this audio was a mystery. Two spools of thin steel wire were found tucked inside an obsolete sound device purchased by a collector at an estate sale. There were no labels; no dates, no names, and no context. Through her obsessive research and active imagination along with hundreds of times listening through, Kobayashi decodes the rich dialogue in the recording and discovers the detailed history of an unforgettable Jewish family from New York that bursts with humor, surprise and drama. The one-woman show annotates, illustrates, and reconstructs the scenes of the recording, while revealing the stranger-than-fiction biography of the eldest son, David, who made the wire recordings. Using video, installation, performance and plentiful archival material, Kobayashi leads the audience through a close listening, spinning "a multigenerational yarn of Rothian heights."
UNDO Project Space – Chelsea, NYC
511 West 20th Street, 2nd Floor
(Next to the High Line)
Details
The performance runs 2 hours and 20 minutes plus a break for intermission.
For mature audiences only.
Doors open 30 minutes prior to the listed performance time.
Seating is on a first come, first serve basis.
Due to the nature of the performance, latecomers will not be admitted.
If you or anyone in your party are unable to make the performance, please do let us know as soon as possible. The exact number of audience members is significant for the performance.
If you need them, do bring reading glasses.
Accessibility: There are 18 steps leading up to the performance space at 511 West 20th Street, and unfortunately no elevator.  We apologize for this and are seeking options to provide better accessibility.
We do not have the capacity to offer rush tickets and discourage arriving at the space without purchasing in advance. However, we do have a waitlist that we email regularly when cancellations occur.
Discount student tickets are available. Email us your interest along with a photo of your valid student ID. We will respond with a coupon code.
Say Something Bunny! is grateful for support from the following institutions.